That's My Story
Do you know that guy who always makes new websites about all his crazy ideas and hobbies? well, that guy is me and this is my short story!
Back in my early days doing websites, it was all about having chile pepper plants in your own home. Eventually, it turned into a quite popular online community which these days mostly have moved on into a popular Facebook group.
After the chile peppers came the photography period. I took thousands of photos everywhere I went. I started collecting the more artistic photos on a new photo blog called Colors of Black. This day I still take a lot of photos but I rarely use the big camera anymore (usually I use my mobile phone instead – yes the results are nowhere near as good).
Then I moved on to cooking and especially to blogging about food and BBQ. I have been a semi-pro competition BBQer for some years so it was here my biggest interest was. I started my food blog and that also spun off a community for food bloggers (well it is mostly a food blog aggregation service but it has a community on facebook as well). The latest addition to the food-related sites is the bbq recipe community site "Mad paa Grill" (translated "food on the grill/BBQ").
can you see a pattern yet?
Getting into keyboards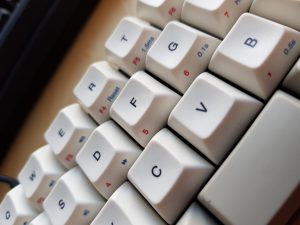 So lately I got so tired of my work keyboard (piece of wireless cr** from Logitech) that I started investigating what else there was on the market. I remembered having some really nice (but huge) keyboards back in my early days with a computer (in the 1980ies) so looked into what made them different. Turned out it was the fact that they were mechanical – as in they were actual mechanical switched under each key.
Checking out the market for mechanical keyboards I realized that there were actually a lot of others like me. There were even communities around it and a lot of people was actually building/assembling their own keyboards from scratch. That immediately triggered my interest and I started investigating what keyboard I should get. Long story short – many hours/days have now passed and my collection (you know how it is with addictions like this) is now containing 4 keyboards – 2 of which  have assembled my self – and a whole lot of different keycaps (another post about those later), springs, switches, stabilizers and other stuff needed as a Mechanical Keyboard fanboy….and now I can add this website to the collection.
Hope you will enjoy the ride with this new site.